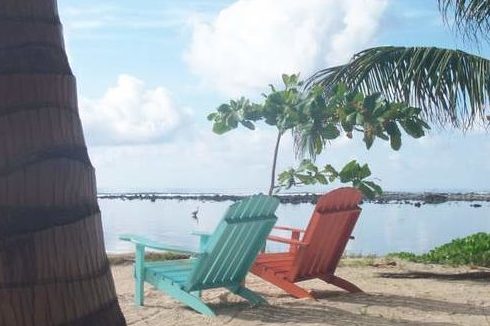 Tobacco Caye – how to really unwind!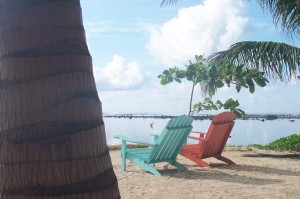 I'd heard that Ambergris Caye is expensive, and that Caye Caulker is laid back, but if you want to experience the Belize lifestyle at its unrushed best – head south!
Crossing into Belize from Guatemala, we took a local bus south to the small coastal town of Dangriga, arriving on a very sleepy Sunday afternoon, when the stores were closed, and just a few people ventured onto the hot streets. Heavy rain had swollen Stann Creek, and its muddy waters swept out into the ocean, turning the sea a milky coffee brown for several hundred yards offshore. At the Riverside Cafe, we negotiated passage to Tobacco Caye, a small, 5-acre island that sounded like it offered the perfect mix of laid-back R&R, and easy snorkeling access to Belize's famed barrier reef.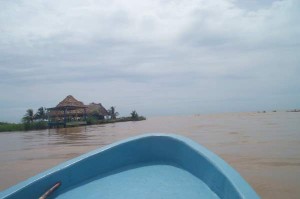 A half hour's boat ride from Dangriga, we reached Tobacco Caye. There are actually 6 different places to stay on the 5-acre island. We had heard that Paradise Lodge was a good place to stay, but in Dangriga we heard good reports of Tobacco Caye Lodge, and specifically that they served the tastiest meals!
Our bungalow was set just a few yards back from the water, with views out to the reef and beyond. It was clean, comfortable, and had a hammock and a couple of chairs on the front porch – perfect for watching the ocean, or kicking back and reading a good book!
And for dinner the first night? Fresh local lobster served in the tail! That's when we knew for sure we'd made the right choice! We stayed 3 days, snorkeling right off the beach in the channel out through the reef, eating great food, chatting with other guests and the friendly locals, and hanging on that front porch with a good book! And on our last night, we were treated to some impromptu Garifuna drumming – with rythhyms that harkened right back to Africa!