Heading West on Route 66… (part 1)
.. or to be more exact, on I40, which parallels much of the old Route 66.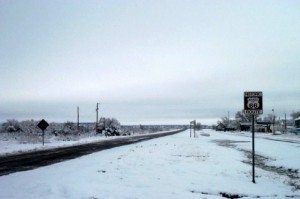 Taking a week off work to travel 2,850 miles from Charlotte NC to Oakland CA in the dead of winter may not sound like a lot of fun, but with the right traveling companion, some good music, and the right attitude, it can be a blast! We were snowed in before we even started out from Charlotte, and once again in eastern New Mexico, but that was all part of the adventure!
Leaving Charlotte a day later than planned, we drove 4 hours to Atlanta to stay with friends, enjoying great food and excellent company. From there we drove another 4 hours to Starkville, MS, where the owner of the Hotel Chester made us feel more like house guests than customers. After an afternoon spent visiting relatives, and a very comfortable night at the Chester, we drove north to Memphis.
Beale Street was a little empty on a Tuesday afternoon, but we had a tasty late lunch of ribs, with a side of Blues. It felt like an appetizer, and at some point in the future, we'll have to return to Beale Street for a more in-depth visit, to truly savor both the food and the music!
A short 6 block walk from Beale Street took us to the Lorraine Motel, now home to the National Civil Rights Museum, and a sombre shrine to Martin Luther King.
The museum is closed on Tuesdays, and of course, that is when we were there. But on a chill winter's afternoon, with period piece Cadillacs still parked in front of the Motel, and a wreath hanging from the balcony, it was easy to imagine James Earl Ray's fatal shot ringing out from the window of the boarding house across the street.