Lake Tahoe – Fall camping trip
Just over 3 hours from the San Francisco Bay Area, Lake Tahoe is set in the High Sierras at over 6,000 feet, surrounding by snow covered peaks.  In the winter it is California's primary ski area, and in the summer it draws hikers, mountain bikers and lovers of mountain scenery.
In early October, my girlfriend and I took a quick weekend break, leaving after work on a Friday evening, and driving 3 hours up Highway 50 to Lake Tahoe to camp for 2 nights at Fallen Leaf Campground, nestled in a pine forest between Lake Tahoe and the smaller Fallen Leaf Lake. Arriving at about 10pm, and having carefully read all of the campground reviews on Yelp, many with a strong theme of "how to keep your food from being eaten by bears", Regina suggested that I put up the tent while she selflessly watched for bears – albeit from the comfort of a locked vehicle!
Perhaps the bears had all moved to lower ground in anticipation of the first snow, as the only animals we saw were tiny ground squirrels struggling with over-sized pine cones. Although we were wakened each night by coyote's calling across the campground to check in with one another, they stayed hidden during daylight hours, and were as elusive as the bears!
The campsite was pretty empty so late in the season, and of the campers there, most had RVs or trailers – not many were tenting it like us. The sites were clean and reasonably well spaced, the hot showers (a dollar in quarters got you 3 minutes) were good, and although the temperature dropped at night to the low 40s, we stayed snug and warm in our tent.
After breakfast on Saturday, we walked from our campsite to the trail, and after 3 minutes reached a small pebble beach at Fallen Leaf Lake. Kids splashed in the shallows looking for freshwater crayfish, and the mountains were reflected perfectly in the clear blue waters of the lake – idyllic!
After returning to the campground, we drove up around the west shore of Lake Tahoe to Emerald Bay.  While most places we went to on this trip were pretty devoid of people, here was an exception. People from all over were here to soak up the incredible lake views and stunning scenery – we took photos for a couple from Washington State, and Regina chatted with some folks from Louisiana.
After admiring Emerald Bay from above, we decided it would be an interesting contrast to view it from the water, so we went to nearby Baldwin Beach and launched my inflatable kayak. Unfortunately my trusty Sevylor inflatable sprang a leak, and we ended up paddling back to Baldwin Beach in our 'deflatable' kayak – so Emerald Bay from the water will have to wait for another trip!
After another cozy night camping, on Sunday morning we drove to the far end of Fallen Leaf Lake to rent a kayak, only to find the boat rental store had closed for the season at the end of September – a real shame as it was a beautiful sunny, warm day.  So instead of kayaking, we drove to the end of the road beyond Fallen Leaf Lake, and discovered pristine Lily Lake – a perfect example of nature at its most serene and tranquil!
Rather than drive home on the main drag, Highway 50, we opted for the scenic route: Highway 89 and 88 to Markleeville, on the eastern slope of the Sierra, then back over Ebbet's Pass, returning to the Bay Area on Highway 4. It took a few hours longer, but we got to see alders with some fall color, stopped at another couple of small lakes in the middle of nowhere, and enjoyed some beautiful mountain views.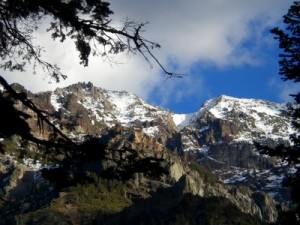 It was a pretty full weekend, but spending time in the mountains, relaxing by beautiful alpine lakes, definitely recharged our batteries and sent us back to the city with clean air in our lungs, and smiles on our faces.