Serenity in the City?
Serenity in the City?
In the San Francisco Bay Area? Want to check out some "hidden" waterfalls in Berkeley? From the northeast corner of Codornices Park, opposite the Berkeley Rose Garden, look for the curving concrete steps, and head up the steps past the elephant…
Just a few feet later, take a left thru the gate marked Private Property…
Relax, it's cool!! Follow the trail thru the redwoods…
And there it is, a springtime wonder…!!! Nestled between houses right in Berkeley…
The waterfall is the highlight, but small paths meander up the side of the canyon and between the houses. This is truly a beautiful, tranquil spot, and when my daughter and I were there on Sunday, we saw about 6 other people, with dogs and picnics, soaking up the sun and enjoying the serenity amidst the city.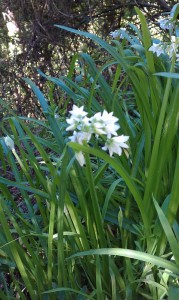 Leaving the waterfall behind, we took small paths through the woods back to Tamalpais Path, and made our way back to the hustle and bustle…