Berkeley World Music Festival – Yes, some things ARE still free!
June is normally a very dry month here in the Bay Area. Even though rain forced the action indoors this past weekend at the Berkeley World Music Festival, it did nothing to dampen the spirits of the performers or the crowds that packed into music stores, cafes and pubs to watch them play.
A dozen or more acts played around Telegraph Ave during the afternoon and early evening, and I managed to catch 3 of them!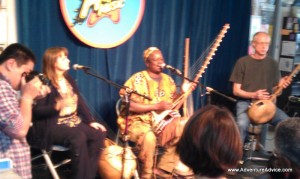 Mamadou and Vanessa got me rocking early in the afternoon, skillfully playing traditional Malian ngoni (harp) music, as we packed the aisles of Amoeba Music and swayed to the beat.
Emerging from Amoeba, we went across the street to check out the crowd outside Raleigh's Pub, to find Riffat Sultana & Sukhawat Ali Khan playing to a packed house. Riffat's voice, backed by her brother Sukhawat's vocal and harmonium skills, mesmerized us with inspirational Sufi music from Pakistan.
And the 3rd band I got to see (making it 3 bands from 3 continents in just 3 blocks!) was Fito Reinoso y su Ritmo y Armonia, playing incredible Cuban Son (a la Buena Vista Social Club) – this was not a band you could sit and watch, everyone was up, dancing to the beat!!
So if you want to travel the world in an afternoon, musically at least, mark your calendar for next year!