Toumani Diabate, master Kora player
Toumani Diabate, master Kora player
Some of the most enjoyable things about travel are learning new and different cultural traditions, trying to master your first few phrases of a new language, and discovering rich new veins of music.
Of course, most of us don't get to travel to our dream adventure destinations nearly as often as we would like, so when the opportunity presented itself to witness master Kora player Toumani Diabate playing here in the Bay Area, I jumped at the chance.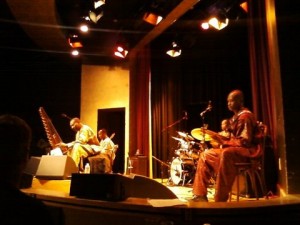 Yoshi's offers an intimate venue to get close to, and sometimes even converse with, a wide variety of world class musicians. While the primary focus is Jazz, traditional and modern musicians from around the world are often also featured.
… And this week Toumani Diabate, a Kora (traditional West African 21 stringed harp-like instrument) master from Mali filled the house at Yoshi's in Oakland with incredibly varied sounds, from guitar like riffs and solos to complex melodies making use of all those strings – but don't take my word for it, check his music out for yourself, live if you can, or on YouTube: