Yellow House, Antigua
Yellow House, Antigua
On our recent trip to Guatemala, we passed thru the incredibly scenic town of Antigua a couple of times: just after we arrived we spent a couple of nights there prior to heading up to Lake Atitlan. Then on our way from Lake Atitlan to Flores, we broke the journey in Antigua, spending another night there.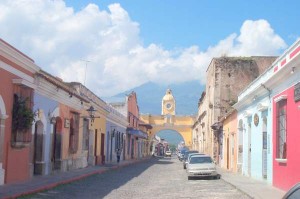 Since Antigua was our first stop in Guatemala, we wanted to book somewhere in advance, especially since our plane was arriving into Guatemala City in the evening, and we knew we'd arrive in Antigua well after dark. My daughter liked the description of Yellow House in the Lonely Planet, and we found some pictures and an email address that actually worked at guatemalastory.com. Once we had the right email address, we got a prompt and friendly response confirming our request for a room.
Outside the Arrivals hall at the airport, there were a number of shuttle (minibus) drivers with signs for Antigua, and soon 'Henry' had us loaded in his shuttle for the 1 hour trip to Antigua, where he dropped us right in front of Yellow House. We had an upstairs room with a hammock right outside, the shared bathrooms were clean, there were 2 computers in the lobby with free internet access, and more hammocks and comfy seats on the rooftop patio. All for $18 a night for a double room, which also included a huge breakfast – what a deal!
Yellow House also has dorm rooms, and we met and chatted with other travelers, many traveling solo for months at a time, from all over the world: Australia, the UK, France, Canada. Many of these travelers had just been to some of the places on our itinerary, so it was great to get 'hot off the press' feedback and recommendations.
The staff at Yellow House were also very helpful in booking shuttle and bus transportation for us, giving us tips on where to eat, and answering all our questions. So much so that on our 2nd visit there, it almost felt a little like coming 'home'.