Hostels? Here in the U.S.? Yes indeed!
For those of us who mainly associate hostels with budget backpack trips in Europe, It's good to remember we have some great hostels here at home to choose from, as I recently discovered on a weekend trip to Charleston.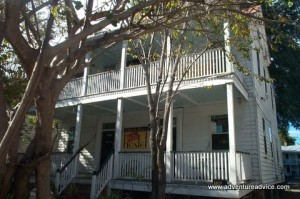 A little internet research turned up good reviews for the Notso Hostel, about a 10 minute walk from Charleston's King Street, and just a couple of blocks from world class shrimp and grits at the Hominy Grill. Sure, at $21 for a bunk in a dorm room, the price is definitely right! Especially when that includes breakfast, free parking and wi-fi.
But what really sets a hostel apart is the friendly camaraderie. A hostel is a great place to meet other travelers of varied ages and nationalities, exchange travel tips, and seek advice, and we found that the aptly named Notso Hostel more than lived up to its name. We asked another traveler, who told us he had been in Charleston for 3 weeks already, for a good breakfast spot. Along with his recommendation, he gave us his cell phone number in case we needed more info later in the day – and yes, we did call later with more questions! (Thanks Rod!) That's the sort of friendliness that sets hostels apart…